Everyday Maintenance on your Everyday Daily Drivers!

Here at Vermont Custom Auto Service we don't only work on Classic cars, Hot Rods, and Antiques we work on your Normal Every Day Daily Drivers as well, Whether it be just an oil change or if you need your timing belt replaced We can take care of all your automotive needs on any year make and model car with our experienced technicians!! So give us a call if you need anything at all!!! We are hear to answer any questions you may have and to repair your vehicle whatever it may need

Here is a quick summer tire change over being done on this Silverado, And while we had the tires off we measured the brake depths as well and noted what they were and told the customer and at this time they were still good and had plenty of life left in the Brakes

This customer came in just for an oil change on her 2006 Hyundi Elantra but when she heard we would do a FREE 50 point safety check on her car at the same time she said yes, After we were done we gave her a report of what we checked along with pictures of the items we found that we would recommend to be replaced that were a safety concern, Since the repair was going to take a couple hours we provided her 1 of our complementary loaner cars for the day

This customer came in with a 2003 Cadillac STS and it had a check engine light on!, No problem we connected our scan tool which reads the engine computer and it gave us a code that we could look and and told us what the code was, We informed the customer what we found and explained to him what would need to be done and how much it would cost and he kindly asked us to continue and to fix his car so we did just that and since the repair the customer has had no further problems with the car and no Check Engine Lights which makes him very happy!

Here is a customer who brought in her 2003 Honda CRV for an Oil Change and FREE 50 point safety check and we found that her lower ball joints needed to be replaced, Another satisfied customer!!!

Here is Aaron performing an Oil Change and FREE 50 point safety check on a 99 Chevrolet Blazer

Here we have a 2007 Toyota Camry that was brought into us for an Oil Change and FREE 50 point safety check and while we were completing the safety check found that this customers car's struts were leaking which would prevent it from passing a Vermont State Inspection and we also found the front brakes were very low and recommend changing them as well while we had the wheels off to do the front struts, So we are doing 4 Brand New Strut assembly's front brakes and a Vermont State Inspection for this customer who is very happy that we found these problems and could address them so quickly and kept it within his budget!

This customer brought this beautiful 2014 GMC Sierra Rocky Ridge Altitude Edition in for a custom exhaust this past winter and brought it in today for us to install some mudflaps on for him since it sits so high! 

Today in the shop we have some summertime daily drivers here getting some service. A 56 Belair with a LS#, a 71 Riviera, a 58 Skyliner, and a 300hp Beetle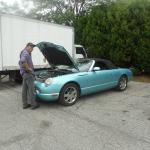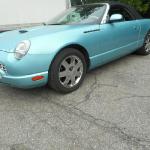 Double click here to add text.

Here is one of our customers pride and joy, 2002 T bird in for routine maintenance 

VERMONT CUSTOM AUTO SERVICE